... so what is the PGM. COMP. score?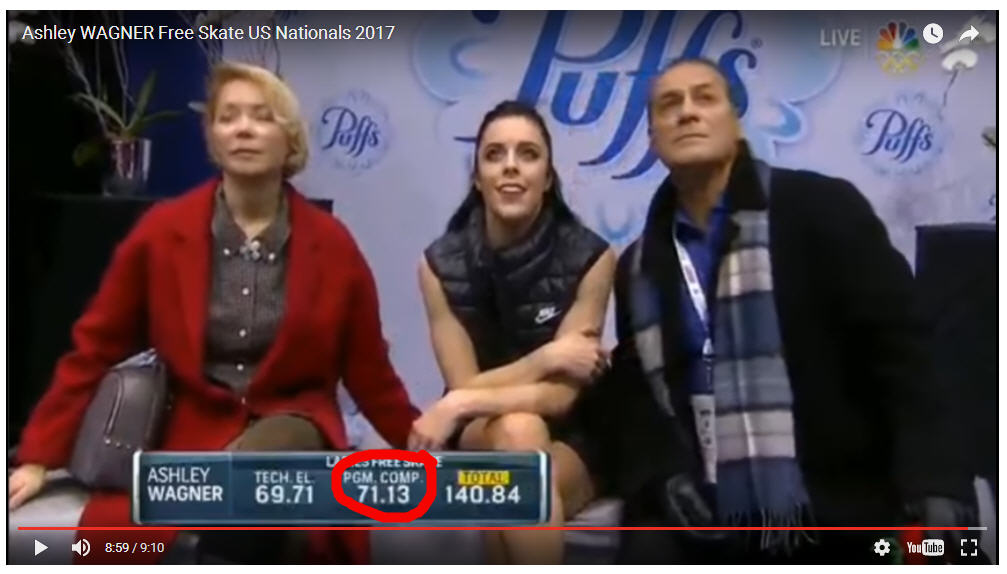 They've skated their program, and they're patiently waiting in the "Kiss 'n Cry" for their final score, when it comes up there are 2 numbers that get added together - the "Technical" Score and the "Program Component" (PGM. COMP.) Score. So where does that 2nd one come from? We covered the technical score in How Does Scoring Work? Part One, now we'll cover the program component score.
What's is the Program Component Score?
The "Program Component" Score, or "Presentation Score" judges the presentation and basic skating skills of the skater, and is a bit more subjective. The Program Component score consists of 5 scorable components: Skating Skills, Transitions, Performance, Composition, and Interpretation of the Music /Timing (for Ice Dance). For Pair Skating and Ice Dance there must be equal demonstration of the criteria by both skaters.
The Judges will award points on a scale from 0.25 to 10.00 with increments of 0.25 for the Presentation/Program Component Score to give a grade for the overall presentation of the performance with five Program Components:
Skating Skills - The overall quality of the skating ability (including balance, cleanness and sureness, flow, edges, multi directional skating, power)
Transitions - The variety, difficulty and purposeful use of intricate footwork, movements, positions, and (and for pairs and dance) holds, that link all technical elements.
Performance - The showmanship, or the physical and emotional presentation of the program to the chosen music (incl. carriage, style, personality, variety, contrasts, projection).
Composition - Choreography showing that the program is well developed with an original arrangement of all types of movements according to the principles of musical phrase, space, pattern, and structure (e.g. idea, concept, unity, pattern, phrasing, originality, design)
Interpretation of the Music (andTiming for Ice Dance) - The personal, creative, and genuine translation of the music to the movement on the ice.
Which score is more important, the Program Component Score, or the Technical Score?
Everyone focuses on the techinical score because of the high point values for triples and quads, however they're both imporant, especially when you're trying to get to the top of the podium. In most cases the difference between 1st and 2nd is 3 or 4 points, and the Program Component score is a low risk, easy way to pick up points. If you and your rival are technically similar in potential points, and you know you usually get in the 88 range in the Program Component Score, and your rival gets in the mid 94 range (Nathan Chen vs Yuzuru Hanyu), well that's 6 points you're behind from the start. You better hope you skate a cleaner program than he does...
Up next: How Does Scoring Work? Pulling It All Together
Play Along:
Ashely Wagner's 2017 US National's Free Skate:
Championship Ladies / Free Skate (this will give you the element abbreviations: USFSA ie. 2A is a Double Axel). (J1, J2, etc... stands for Judge 1, Judge 2)
Total
Total
Total
Place

Name

Nation

Seg
Score
=
Elm
Score
+
Comp
Score
+
Deductions
-
2
Ashley Wagner, SC of Wilmington
140.84
69.71
71.13
0.00
#
Executed
Elements
I
Base
Value
GOE
J1
J2
J3
J4
J5
J6
J7
J8
J9
Panel
Scores
1
2A
3.30
1.07
2
2
3
3
2
2
2
2
2
4.37
2
3F+3T<
<
8.30
-0.10
-1
1
-1
0
1
0
0
0
-1
8.20
3
2A
3.30
0.64
1
1
2
2
1
1
1
2
1
3.94
4
FSSp4
3.00
1.00
2
2
2
2
2
2
2
2
2
4.00
5
StSq4
3.90
1.60
3
2
2
3
3
2
1
2
2
5.50
6
3Lo+1Lo+3S
11.00
x
0.70
1
2
0
2
1
1
1
1
0
11.70
7
3F
5.83
x
1.10
2
2
1
3
2
1
2
1
-2
6.93
8
3Lo
5.61
x
1.40
2
2
2
3
2
2
2
2
1
7.01
9
3Lz+1T
!
7.04
x
0.00
0
0
0
0
0
0
0
0
-1
7.04
10
ChSq1
2.00
1.30
2
2
2
2
2
3
1
1
2
3.30
11
CCoSp4
3.50
0.86
1
1
2
2
2
2
1
2
2
4.36
12
FCCoSp3
3.00
0.36
1
0
1
2
1
1
1
0
-1
3.36
Total BV:
59.78
Total elm. score:
69.71
Program Components
Factor
Skating Skills
1.00
8.50
8.75
8.25
9.25
9.00
8.75
8.50
8.75
8.75
8.71
Transitions
1.00
8.50
8.75
8.25
9.00
8.75
8.75
8.50
8.75
8.50
8.64
Performance
1.00
8.50
9.25
8.50
9.50
9.25
8.75
8.75
9.00
9.00
8.93
Composition
1.00
9.25
9.25
8.50
9.25
9.25
9.00
8.75
8.75
9.00
9.04
Interpretation of the Music
1.00
9.25
9.25
8.75
9.50
9.50
9.00
8.75
9.00
9.25
9.14
General Component Factor:
1.6
Total factored comp. score:
71.13
| Majority deductions | J1 | J2 | J3 | J4 | J5 | J6 | J7 | J8 | J9 | | REF | |
| --- | --- | --- | --- | --- | --- | --- | --- | --- | --- | --- | --- | --- |